The PPR240 is a low-grade vacuum from the Numatic Commercial CleanCare range. It is unique as a modern design, as it has the facial stickers, but not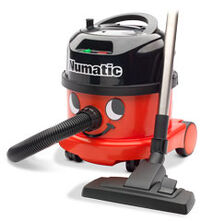 a catchy name, so 'Numatic' is written in place of 'Henry' or 'Hetty' Etc.
As a commercial vacuum, it must have many functions that would help in the workplace. As such it has a 9L capacity, and most features that would be seen on a high-end 'Henry' model, such as a TriTex filtration system, HepaFlo bags, Cable Rewind system, A class energy ratings, and a 12.5m cable.
The uniqueness of the PPR240 comes in with its AS1 accessories kit, witch includes 'A Tool For Every Job'. It has many accessories for the aluminium tube as well as for the tip.
Ad blocker interference detected!
Wikia is a free-to-use site that makes money from advertising. We have a modified experience for viewers using ad blockers

Wikia is not accessible if you've made further modifications. Remove the custom ad blocker rule(s) and the page will load as expected.