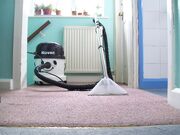 The Numatic Nuvac NVE3 was only sold for 1 year, in 1989 and was Numatic's answer to the increasingly popular "3in1" carpet washer market at the time.
It features an 800W/ 1000W max bypass "Turboflo'" motor and high pressure "Powerflo" solution injection pump.
The machine was only sold in white, and came equipped with accessory kit A25.
This comprised of the standard single clip 300mm dry combination nozzle, dusting tools, and stainless steel wands and one bent end, but with a 3m hose [other domestic machines at the time used a 2m hose]. It also included a blue 300mm squeegee wet pick up nozzle, 270mm fishtail carpet extractor nozzle, and 100mm upholstery extraction nozzle. Of course also a solution line and an extra set of wands with an attached trigger and solution fan sprayer.
The Nuvac was a very efficient and versatile vacuum, both for went and dry use, with a 45 litre a second airflow and a 90% water extraction figure. The high pressure solution spray and fishtail extraction nozzle were particularly good at removing dirt from carpets.
Sold along side other domestic machines such as Henry, Edward and Charles, the Nuvac would have been the top of the line with its shampooing and dry facilities. It was replaced by the George in 1990.