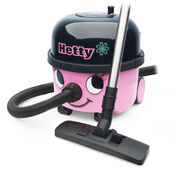 Hetty (short for Henrietta) is not just a pretty face, she has all the Henry features and specification. AutoSave technology saves energy, reducing running costs. The 10-metre cable storage and rewind system is a work of art, trouble free and spring free, and it keeps everything neat and tidy. The giant Tritex filter system makes sure that what goes in stays in, and the highly efficient HepaFlo dust bags, improve filtration efficiency, cleanliness and capacity.
• AutoSave energy saving technology • HepaFlo filtration  • Wand docking storage • Easy to change Hepa-Flo bags • Full accessory Kit A1 with Stainless steel tube set
Ad blocker interference detected!
Wikia is a free-to-use site that makes money from advertising. We have a modified experience for viewers using ad blockers

Wikia is not accessible if you've made further modifications. Remove the custom ad blocker rule(s) and the page will load as expected.