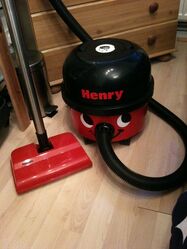 The HVC200 was the first Henry ever made. It ran from 1981 up until 1988 when replaced by the HVR200. Although the HVC200 ran alongside the HVR200, from 1985 until 1988. The HVC200 was simple when it came to design, and is very easy to work on. It had Numatic's very reliable 680W IEC, 800W MAX motor.
Layout
The HVC200 had the PN socket and red angular switch at the back. Plus a big rear exaust. It actually had a post filter, which you don't see on Numatics of today. It did not feature the cord rewind, which came with the later HVR200.
It's rare to find a HVC200 in good condition now, although they're far from rare. They sold very well in their day, and most of them are still going strong today.