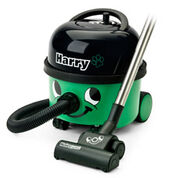 Meet Harry the new member of the Henry and Hetty family, designed and incorporating important extra features for pet loving people. Harry has all the Henry features, power and performance and is equipped as standard with the AutoSave energy conservation system. 
Where homes have pets there are two major differences over non-pet households, hairs and odours, and Harry is equipped to deal with both. 
The MicroFresh activated charcoal filter has a large surface area and certainly minimizes those age old odour problems. 
The unique Numatic dual purpose HairoBrush has been designed so that it can give excellent pick up performance both on the floor and, equally, as a hand brush for use on upholstery and fabrics. 
• AutoSave energy saving technology • HepaFlo filtration  • Wand docking storage • Easy to change Hepa-Flo bags • Accessory Kit HH1 with Stainless steel tube set • HairoBrush